Biography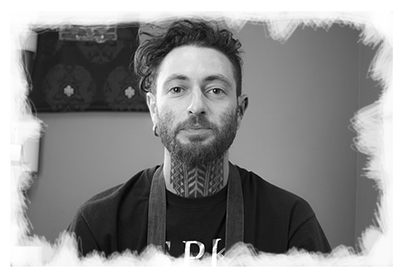 My attraction to drawing comes from small, practicing on the margins of books and school desks. I made my first tags and graffiti on the street in 1999.
I have not studied drawing, but I have spent many hours thanks to grafitty.
I was looking for jobs painting all kinds of businesses or private homes.
I have worked in several trades, but I had always wanted to do something artistic or creative.
They gave me a tattoo machine in 2008 and it took me several months to gather the rest of the necessary material until I did my first tattoo, practicing with myself and close friends. I went to ask my first tattooist for advice. He and his colleagues explained to me what is necessary and basic in terms of hygiene, material and care. I was going to see him tattoo from time to time and they have always been open to any doubts he had.
In 2010 I made my first trip to Asia and it caused my very good influence. I have always traveled with tattoo machines, I felt that it was something I had to do, because the moments of sharing conversations and experiences with people, is something that the tattoo gives you. I spent half a year visiting several countries and in Borneo (Malasya) and Thailand, more focused on knowing about the «origins of the tattoo».
I met good people and great artists who offered me a lot of information about the tattoo culture. I returned to Asia repeatedly more focused on the tattoo. I traveled to Java (Indonesia) because I met some guys who tattoo while retaining the Dayak tradition. I spent a month living with one of them and he taught me about the drawings and meanings of the tattoo.
I returned in 2015 to spend two more months living there and get to know the culture up close.
I went to Nepal attracted by the Buddhist culture. I stayed a few weeks before the earthquake happened and returned to Spain 3/4 days later. That was when I decided to focus on a more ethnic type of tattoo. Tribal, Buddhist and other Eastern symbology speak of a connection with the natural environment and the spiritual world. Geometry has its application in both as well.
Inspired by the sound to obtain images I found interesting because music has been part of my life since childhood. I went to a music school one or two years, I have lived practically all my life among musicians and I have been related to music and although I do not play any instrument, it has always created a hypnotic effect on me. I have continued to observe the sound for some years and it has been shown that sound and vibration have an effect on matter. Tibetan culture already demonstrated it with the Buddhist bowl and Ernst Chladni (1756/1827) as well as Masaru Emoto (1943/2014) demonstrated the influence of sound, words and thoughts in the form of water crystallization. Since our body and the planet are made up of 70% water, it is easy to understand that sound frequencies influence people.
I try that all my designs have some cultural or spiritual meaning and I like to make compositions that allude to the creation, mixed with some ethnic cultures that I have known traveling.
Although I still travel tattooing in different countries of the world, I always return to Barcelona where I have my studio and I also work in others. The styles in which I focus are pointillism (dot work), sacred geometry (sacred geometry), neotribal, science and nature (science and nature).